Acne is general term often used to indicate acne vulgaris, which is a chronic inflammatory disease of the sebaceous glands and hair follicles of the skin. It is characterized by blackheads, whiteheads, and pimples. Chronic acne can result in scarring.
General Recommendations
Cleanse your face at least twice a day with a sulfur-containing soap. After washing apply benzol peroxide 5% gel at night. Extract blackheads every two or three days. Avoid using greasy creams and cosmetics, and avoid medications that contain bromides or iodides.
Dietary Modifications
Eliminate sugars – A study has shown that skin glucose tolerance is significantly impaired in acne patients.
Eat a high-fiber diet – Your acne skin has cleared rapidly when fiber was increased in the diet. Foods high in fiber are fruits, vegetables, whole grain cereals, whole grain breads and crackers, bran, and legumes (beans, lentils, and split peas).
Reduce your consumption of fats and junk foods – When you begin consuming the saturated fats and "junk food", acne start appearing
Avoid foods high in trans-fatty acids – These foods include milk, milk products, margarine, shortening, and hydrogenated vegetable oils. Because milk products are also high in calcium, be sure you are consuming other calcium-rich foods or juices.
Avoid fried foods.
Eliminate soda pop and artificial sweeteners.
Limit iodine-containing foods – Excess iodine consumption can cause an acne-like skin condition. Fast foods have been shown to contain excess quantities of iodine.
Schedule a cleansing diet for several days to help detoxify your system – When impurities are not eliminated through the kidneys and bowels fast enough, they can erupt through the skin. A cleansing diet can be very beneficial (This is not recommended for anyone under seventeen years of age).
Consider the possibility that you have food allergies – Foods allergies can cause skin eruptions in some people. Common allergens include chocolate, milk, refined carbohydrates (sweets), and soft drinks.
Drink no more than one glass of whole milk per day – The hormones contained in milk can aggravate acne.
Four or five cups of cucumber juice per day for a week – this said to purify the blood and lymphatic system, resulting in a clearer complexion.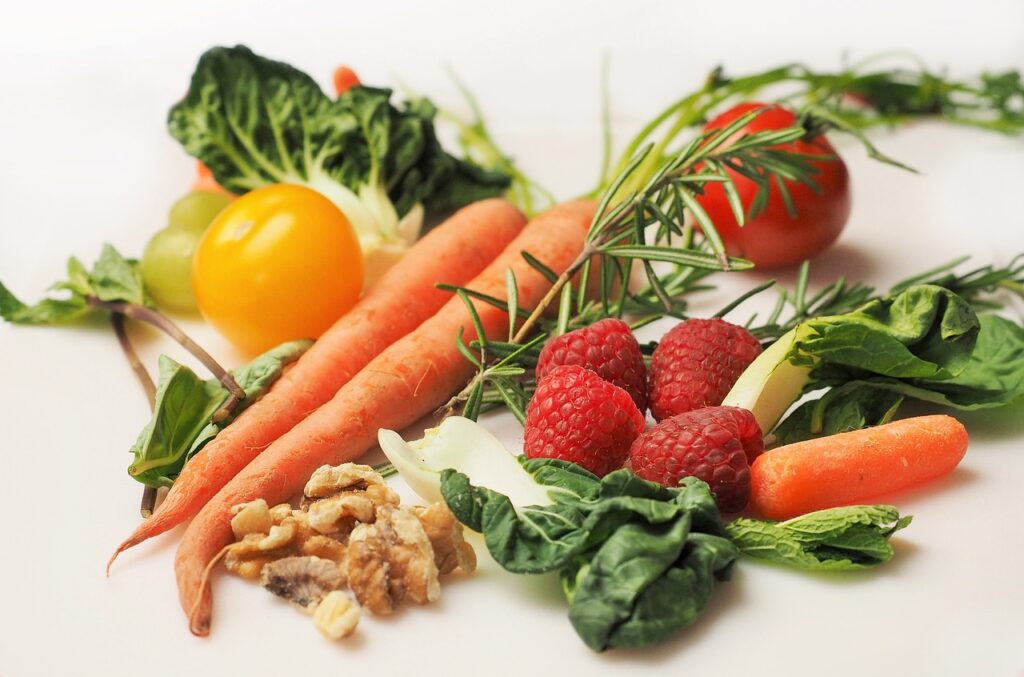 . Vitamin A – Reduces sebum production. Be aware, though, that side effects may result from high doses of supplemental vitamin A. Beta-carotene, found in fresh fruits and vegetables, is a wiser choice. It is converted to vitamin A as needed by your body.
Vitamin B6 – is beneficial for premenstrual acne breakouts.
Folic Acid may be beneficial.
Selenium with Vitamin E – may normalize glutathione peroxidase sensitivity.
Zinc – is important in wound healing, inflammation control and tissue regeneration.
Essential fatty acids may be helpful, along with a low-fat diet. Acne sufferers may be deficient in these nutrients. Pure cold-pressed flaxseeds oil is a good source of omega-3 fatty acids, as are cold-water fatty fish and green vegetables.
Beneficial Juices To Clear Acne Skin
Carrot, kale, and parsley – Sources of beta-carotene
Kale, spinach, and green pepper – Sources of Vitamin B6
Spinach, kale and beet greens – Sources of Folic Acid
Red Swiss chard, turnip, and orange – Sources of selenium
Spinach, asparagus, and carrot – Sources of Vitamin E
Potato, green pepper, and apple – Sources of chromium
Ginger root, parsley, and carrot – Sources of Zinc
Green juices – Sources of Omega-3 fatty acids
===>> SHOP Juicer Machine on Amazon
Suggested Juicing Recipes
Ginger Hopper:
1/4 inch slice ginger root
4-5 carrots, greens removed
1/2 apple, seeded
Fresh Complexion Express:
2 slices pineapple, with skin
1/2 cucumber
1/2 apple, seeded
Energy Shake:
Handful sparley
4-6 carrots, green removed
Parsley sprig for garnish
Calcium-Rich Cocktail:
3 kale leaves
Small handful parsley
4-5 carrots, green removed
1/2 apple, seeded
Green Surprise:
1 large kale leaf
2-3 green apples, seeded
Lime twist for garnish