Chocolate and Fried Foods may be the pimple-causing foods. So what should we eat for clear skin?
Your skin is your body's largest organ, and although there aren't any foods that "cause" breakouts, there are certainly foods you can eat to help prevent breakouts from the inside out by supporting healthy, inflammation-free skin uninhibited by clogged pores.
Celebrating iYURA's birthday with a 10% off sale
Pores that are opened, clear, and oxygenated are inhabitable for pimple-causing bacteria.
Unfortunately, for a lot of us, our skin doesn't turn over (exfoliate itself) as quickly as necessary to keep our pores clear. Think of it this way: Every day, we produce new skin cells and slough off old ones. Clogged pores occur when new cells appear but the old ones are still hanging on for dear life.
One solution is to manually exfoliate them away with apply recipes, but another solution is to eat a diet rich in vitamin A, which helps your body to exfoliate from the inside out. Also important for an anti-acne diet are anti-inflammatory foods, which help to ensure that even when a pore does get clogged.
Food cures for acne, breakouts, pimples
ORANGE SUNSHINE SOUP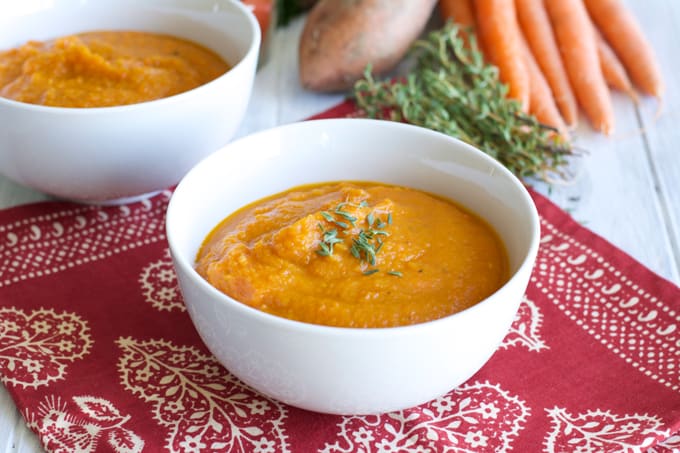 With vitamin A-rich carrots and yams, vitamin C-rich orange, and inflammatory garlic and ginger, this creamy (but dairy free) root vegetable soup supports healthy skin cell turn over from the inside out while also reducing redness and inflammation in acne-prone skin. Top with Vitamin E-rich sunflower seeds to promote faster healing of existing blemishes from within and your skin will go from red to radiant in no time.
Ingredients: Serve 4
1 cup raw cashew
7 medium carrots, chopped
1 large garnet yam, peeled and cubed
2 tablespoons olive oil
3 cloves garlic, diced
1/2 onion, chopped
1 large orange, peeled
2 cups low-sodium vegetable broth
2 tablespoons finely chopped ginger
1/2 teaspoon ground black pepper
4 tablespoons raw sunflower seeds
Soak the cashews in water and let sit for 30 minutes. Meanwhile, boil the carrots and the yam in water until soft, about 20 minutes.
In a separate pan, sautee the garlic and the onion in the oil, over medium heat, until slightly browned, about 5 to 7 minutes.
Drain the carrots, yam, and cashews and transfer to a food processor. Add the garlic, onions, orange, vegetable broth, ginger, and pepper and puree until smooth.
In a dry skillet, toast the sunflower seeds until fragrant and slightly golden.
Divide the sup into 4 bowls and top each with 1 tablespoon of the roasted sunflower seeds.
Beauty Tip:
Cut out simple carbs and increase your protein intake. Simple carbohydrates are metabolized as sugar and radically affect hormonal balance, while whole grains and lean proteins can prevent breakouts.
ASIAN CABBAGE SLAW
Cabbage may not seem like a nutrient-packed powerhouse, but with indole-3-carbinol, a powerful antioxidant that support detoxification in the liver, its cleansing benefits aren't to be overlooked. Adding this salad to your diet is a step in the right direction on the the way to acne-free skin.
Here's why: In helping to detoxify your liver, cabbage can help flush out the toxicities in your body, rather than letting them buildup in your bloodstream, ultimately wreaking havoc on your skin. Combined with healthy fats to keep skin hydrated, this salad is a deliciously crunchy way to a clear complexion.
Ingredients: Serves 2 to 4
4 Tsp apple cider vinegar
6 Tsp toasted sesame oil
6 Tsp honey
1/2 tsp salt
1/2 head red or green cabbage, shredded
2 scallions, chopped
3/4 cup almond slivers
2 Tsp sesame seeds
1 cup extra firm tofu
In a small bowl, whisk together the vinegar, toasted sesame oil, honey and salt.
toss the chopped cabbage and scallions with the dressing. Cover and refrigerate for 1 to 2 hours.
Toast almond slivers in the dry skillet until slightly browned.
Repeat with the sesame seeds.
Toss the almond and the sesame seed into the salad immediately prior to serving.
Top with tofu.
NOTE: If your acne is hormonally driven (often appearing around that time of the month and on your chin), skip the tofu in this recipe, as it may exacerbate hormonal blemishes.
RAW OATMEAL
One cup of oat contain over 16 grams of fiber, which not only helps keep you full for longer but also helps to keep blood glucose and insulin level stable, which when high, can increase acne inflammation, particularly if you suffer with cystic acne. it's why in cultures with a diet free from insulin spiking processed foods, acne is virtually nonexistent. To keep blood sugar steady (and cystic acne at bay).
Ingredients: Serve 2
1 cup steel cut oats, soaked
1/2 cup cashews, soaked
12 medjool dates, pitted
1/4 tsp vanilla extract
2 Tsp extra-virgin cold-pressed coconut oil, liquefied
1/4 tsp seasalt
fresh berries (optional)
In separate bowls, soak the oats and the cashews overnight in enough filter water to cover each.
Strain the cashews before placing them in a high powered blender with the dates, vanilla extract, coconut oil, and salt. Add 3/4 cup water, blend until creamy, about 30 second.
Strain the soaked oats and put into a mixing bowl. Add the blended cashew milk to the oats and stir until well combined. Cover and refrigerate for 20 minutes before serving. Top with fresh berries.